DPFax – MiniFaxServer is a product innovate by Digital Pulse Inc. It is base on open source solution, used by hundred of thousands of users all over the world. All copyrights are belong to the original manufacturer. Equipment comes with 1 year limited warranty. Terms and conditions may apply.
---
Digital Pulse Inc can be contacted via:
Office: Suite SA-12-11, Tower A, Paragon Tower, Persiaran Bestari, 63100, Cyberjaya, Selangor, Malaysia.
Email: sales@digi-pulse.com
Support: Access us via our Facebook page.
---
If you wish to purchase DPFax – MiniFaxServer, please go to the store link provided at the right hand corner. Payment can be made via Paypal or by local Internet Banking. Please contact us at sales@digi-pulse.com if you wish to purchase direct from us.
Comparing DPFax-MiniFaxServer with others? Let us help you to draw it out: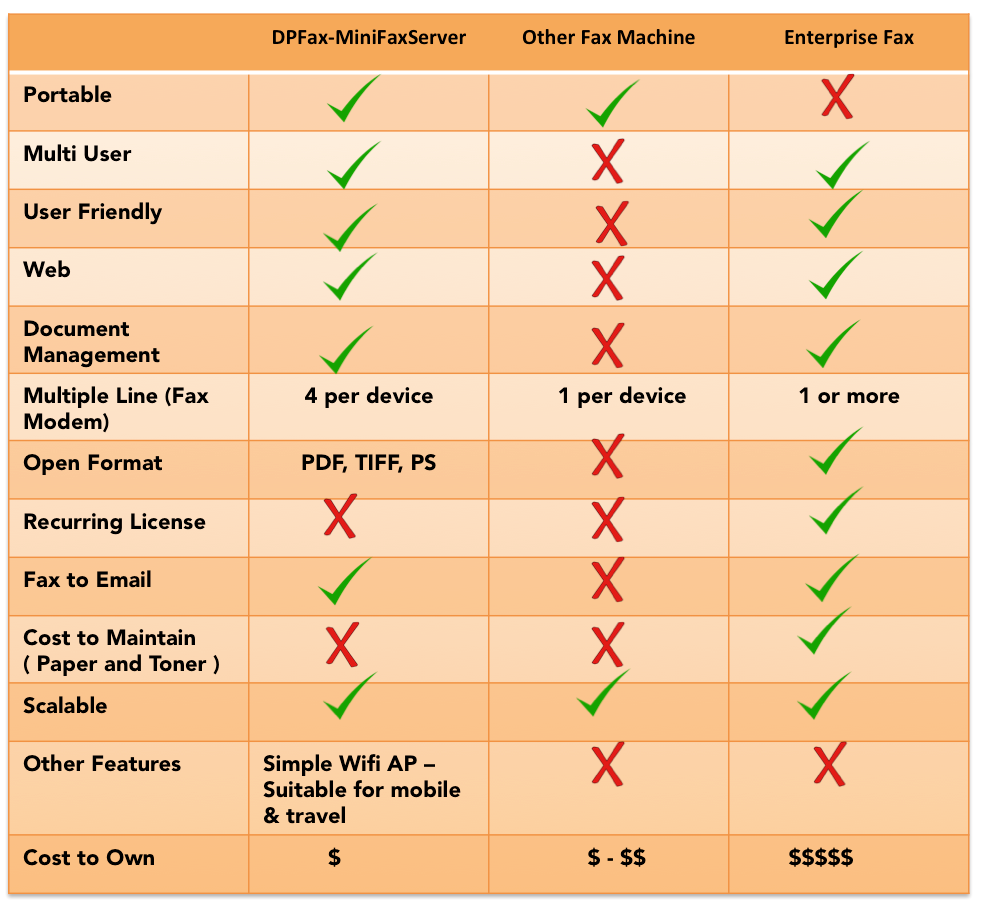 ---
Shipping:
Your order will take 3-4 days of processing before delivery take place.
Order process will only be made once the payment has been made and verified by us.
You can purchase thru our online store or purchase directly from us. We will provide details of bank / payment method once we received your order.
Delivery may take 5-7 working days from the day processing completed base on stock availability. It could reach 2-4 weeks sometimes.
We will provide tracking number accordingly and inform you once the item has been shipped out.
Limited warranty 1 year. Terms and conditions may apply.
We ship worldwide.
Price validity is subject on region and does not apply cross country.
Warranty Exchange:
Warranty does not cover item damaged due to nature fault, including lightning, flood and others
Warranty exchange: the whole package must be returned for 1:1 warranty exchange. 
Item purchased from reseller must be returned for exchange via the reseller.
Warranty exchange might take between 2 weeks to 4 weeks.
Purchase:
Payment term is in advanced / cash before delivery. 
From individual, payment shall be made to one of our bank accounts or thru Paypal (refer right bottom box), before actual processing and delivery.
Bulk purchase, please contact us for further info.
Terms and conditions:
Please read, understand and agree of all the terms and condition.
All orders are subjected to 1-4 weeks delivery, base on stock availability.
Items will be delivered to reseller once full payment has been made.
Reseller must follows market retail and selling price unless otherwise stated by us.
Warranty exchange is 1:1 and in complete package must be returned to us for replacement.Incomplete package return will void warranty exchange.
Customer, who bought unit from reseller, must return the item to reseller. Reseller shall initiate the warranty process.
Initial stock order : minimum of 10 units for each authorized and approved reseller.
Payment shall be made to one of our bank accounts. We will provide the details once we receive the purchase order from resellers.
Refund: There is no refund for purchased product. 
Customer and reseller shall release us or/and our group of companies from any legal or law suits in any event that customer/reseller might incur losses which might or might not relate to our products usage.
---